Robert Forrest

[email protected]
eVoice +1.949.225.3400 Extension 103
Mobile  951.295.7640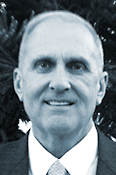 Robert Forrest joined Vantera in 2008.  He is a seasoned senior level professional specializing in turnaround and restructuring of all size businesses.  Most recently he acted as the CFO for Banner Mattress in their chapter 11 restructuring and has successfully brought Banner out of bankruptcy.  He is a professional consultant for companies facing reorganization and has successfully directed numerous companies through the reorganization process, both in and out of chapter proceedings.
For four years, he was the CFO and a director for Master Home, USA and successfully led the purchase of Wicke's Furniture.  For ten years he was the CFO, and a director, for Roger's binding and Mailing and led the company through a successful turnaround utilizing the bankruptcy process.  He has held positions in companies ranging from Merrill Lynch realty (Vice President/Controller) to Strategic Investment Services (CFO/BOD) and The Yes Fund, Inc (CFO/BOD). He started his career with Arthur Andersen & Company in the Small Business Group.
He holds a Bachelor of Science Degree in Accounting and Business Administration from California State Polytechnic University at Pomona.  He is married with six children and nine grandchildren.