James V.Moodhe

Tel 623.302.5969
Mobile 760.218.6453
Fax 949.315.3480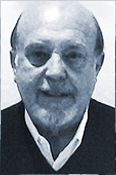 James Moodhe maintains a comprehensive knowledge of the Footwear industry, including all the "key players" and their business models, distribution systems and financing mechanisms He has held multiple "C" level positions throughout his career and is more than capable of handling concurrent, complex assignments and P&L objectives. He has proven time and again that he is well suited to drive revenues and adoption for new and "renewed" industry brands.
He is a prominent industry personage who maintains strong relations with major sporting goods accounts, is well versed in offshore manufacturing, and is a familiar presence at most Asian factories. He also has extensive experience in licensing footwear, apparel and related accessory items.
A co-founder of NIKE (Employee #3), he created the company's National Accounts program and the "Futures Division" that is still emulated today at most major athletic footwear companies. He also established the first factories in Korea and worldwide distribution in over 33 countries.
VP of Sales & Marketing at K-Swiss from 1988-1991. He was responsible for nearly tripling company sales during his three year tenure, and expanding product lines into basketball and cross-training.
Created the first footwear line at the Guess! Companies – Guess! Athletic Footwear – and drove licensing revenues to over $55M in in just over three years' time.
Hired by Shamrock to help in the turnaround of LA Gear in 1995-96. During his tenure, he managed to bring on Footlocker as a key account for the company.
In 2001, he became COO of IPATH, a skate shoe company. During his six year tenure,  he oversaw a 300% growth in revenue as well as a profitable sale to Timberland for the family owned private company.
He started his own consulting firm in 2007, advising numerous footwear companies on business development and sourcing. Recent assignments include early stage involvement with Praxis Footwear (skate shoe company out of Oregon),who will be making their first shipment in May after just four months' time, and Yellow Duck Ltd, based in Hong Kong (a manufacturer of women's sandals and flip flops). He was also the CEO designee tapped by private equity sponsors associated with the runner up bids in the recent acquisitions of both Active Sports and American Sporting Goods (ASG).