Avi Suriel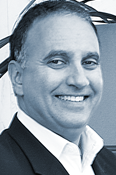 Avi Suriel has over 20 years experience in investment banking and management, having advised numerous corporate clients in corporate finance, M&A and restructuring assignments. His total financing transactions involved some $15 Billion, both with Fortune 500 as well as small and midsize companies in the U.S., Israel, Latin America, Asia and Europe. He is currently a Managing Director of Ascendiant Capital Markets LLC. 
His entrepreneurial spirit was exemplified in his involvement over the last decade as an advisor to various start-ups and small cap companies, often taking a role as Interim CFO, COO or President. As such, he dealt extensively with VC's, angel investor groups and private equity firms; he frequently helped define an organization's strategic goals, build a viable business model and supervise execution while reporting to the company's Board of Directors or investors committee.
During the 90's, he was a partner with two private equity firms, Orida Capital and Technology Capital Group, where he analyzed, managed, and negotiated transactions in the US and Europe, focusing on media, technology & consumer products. He took active role on the portfolio companies' Board of Directors and was involved in key strategic and managerial decision-making of these entities.
His career also includes experience with several major Wall Street investment banks, among which Merrill Lynch, Morgan Stanley and Smith Barney/Citigroup. While a Director at Smith Barney, he established and ran the Israel Investment Banking Group, managing IPOs, debt financing offerings and Mergers & Acquisitions transactions. His investment banking career was preceded by his experience as a research analyst with both "buy side" and "sell side" financial firms, covering technology, media, health care/medical devices, realty, consumer products, hospitality/gaming, retailing and "distress" sectors.
He earned a BA degree in Economics and International Relations at Hebrew University, Israel (Dean's List), and an MBA at Fordham University, New York (Beta Gamma Sigma honorary society recipient).
He is a Series 7, 24, 66 and 79 Registered Representative and security transactions are offered through Ascendiant Capital Partners, LLC, a FINRA, SIPC member firm.
Mr. Suriel obtained a Certified Financial Manager designation (CFM), has served on several Boards of Directors of both public & privately held companies, and is involved in various community and philanthropic activities.